her blog
:
In Nicole's words:
"This month we challenge you to look at embroidered patterns in a whole new light! Look through your clothes, Pinterest, home decor catalogs or even the inspiration I have provided above and find an embroidered pattern that speaks to you. Using the colors and design of the embroidery, build your own stamped version using your favorite floral stamps or other images. No stitching required!
"
I have three cards for this Hop - hope you can stick with me and see them all!
This is my first inspiration photo, which I got from Pinterest
here
. I love Leanne Beasley's embroidery patterns. Unfortunately, I haven't been able to find them here in the U.S.
As soon as I saw this, it reminded me of Flutterby Friend. So I went to work and came up with this card, inspired by the butterfly, and the line images. Here is my first card:
My next card was inspired by
this linen bag
on Etsy: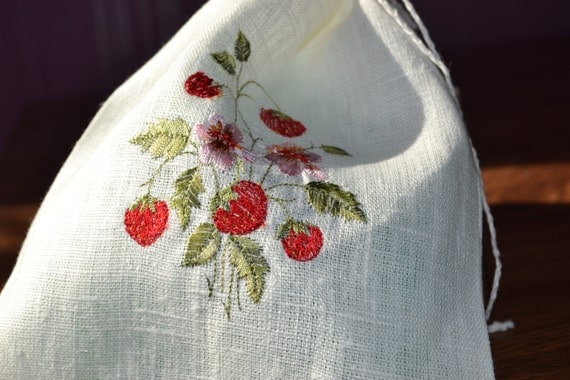 I had embroidered some napkins about 2 years ago using the Strawberry Patch stamp set as my guide. I pulled out one of the napkins I had left over and cut a square with the embroidery. I backed it with some stuffing to puff it up and attached it to my card front through a cut out window. As in the inspiration piece, my embroidery was also done on linen.
My third card was inspired by old time cross stitch samplers. I'm not sure if they qualify as embroidery, but they were definitely done with needle and thread. Here is one of the samplers I have pinned on my Embroider board on Pinterest:
I was inspired by the red and white stitchery and noticed that most samplers include an alphabet. I pulled out my Stitched Alphabet and Stitched Sentiment sets and set to work. I added a little vintage lace to the top and bottom to add some character.